Writing is Easy

"Writing is easy. All you do is stare at a blank sheet of paper until drops of blood form on your forehead." Those are the spine-tingling words of encouragement to aspiring writers from American journalist Gene Fowler. But it gets even more chilling.
Time is ticking.
Time is money.
Time is flying.
Time is risk.
Time is tight.

And what are you running out of?
Patience. Remember, you've been staring at a blank sheet of paper for the past nine months. Hey, at least time heals. If you have a financial story to tell, you must begin writing now – before time is up.
There's so much to do. You need a solution. Hire a ghost to clear the confusion.
Research and interviews, outlines, and arts.
Spreadsheets and formulas, graphics, and charts.
Theories and formulas must be addressed.
Dates and names can't be guessed.
Digital domains you'll surely need.
Make videos and podcasts if you want to succeed.
Write e-books and web sites; they don't take backseats.
And don't forget Twitter, you'll need to send tweets.
Yes, those are chilling challenges for any mere mortal. All require writing. All require time. All result in blank pages. But you can transform these monsters into a new perception.
When nightmarish writing tasks strike at the thirteenth hour, an experienced ghostwriter can raise your spirits, produce magical results, and transform those blank pages into words – your thoughts – that everyone sees.
If you hire a ghost,
You can write with ease.



Bill Johnson - Your Ghost Host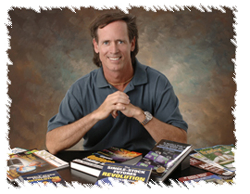 Bill Johnson has been professionally writing for over 12 years, and is a member of the American Society of Journalists and Authors (ASJA).
He has published ten books on various financial topics including options, single stock futures, hedging, and the Federal Reserve, three of which were selected as supplemental texts at Binghamton University, Wingate University, and Florida International University. He has ghostwritten and edited published works for others.
Most of his background covers the financial markets and economics.
He is the President and founder of Options A to Z.com, where he primarily creates courses, videos, and podcasts to teach investors the art and science of options trading.
In 2009, he was invited to be an adjunct professor at one of Miami's largest universities where he continues today teaching an online Financial Risk Management course covering futures, options, and swaps. In April 2010, he was nominated as "Most Engaging Professor" by the Financial Management Association and the Finance Honor Society and won the overall $1,000 award in September 2010.

He also teaches economics, finance, and business writing courses for another university in south Florida and was the subject matter expert for designing one of its national writing courses.
He started his financial career in 1992 as a financial analyst for the American Automobile Association's (AAA) world headquarters in Heathrow, Florida. He designed and analyzed spreadsheets for financial projections and risk assessments for the Association's affinity credit card program. Additionally, he researched and reported on market data and interest rate hedging techniques.
In 1995 he was hired by the brokerage giant Charles Schwab where he worked for nearly six years on an active trader options team. He also worked on specialized technical analysis and fundamental analysis teams. He gained invaluable experience while working rotations for Schwab's trade support desk, risk reporting, margins, and initial public offerings (IPOs) departments.
Bill was also a subject matter expert for Schwab and selected to write compliance-approved manuals and teach the corresponding weeklong courses in "Option Strategies, Pricing, and Hedging" as well as "Economics of Financial Markets" to advanced brokers.
In 2000, Bill took a new position as the Chief Options Strategist for 21st Century Investor, an independent investment research, education, and advisory service.
He wrote two online financial educational courses that enrolled more than 300,000 students worldwide. During his last year, Bill was a regular host of the 21st Century Alert Radio show, which aired daily on WNN Financial Radio 1470 AM.
In 2007, he was hired as the Director of Education for the Options University where be published the 450-page book Options 101: From Theory to Application, which reached #1 for financial titles in December 2007.
He was a key speaker for a one-month financial tour in Australia, Singapore, Jakarta, and Kuala Lumpur as well as several "seminar at sea" cruises and other major events.
He was invited to be a guest speaker for the Options Institute Master Sessions at the Chicago Board Options Exchange (CBOE) and for the Quantitative and Computational Finance Day (QCF) at Georgia Institute of Technology. He has also made numerous appearances on WXELs television program Wealth & Wisdom.
He had articles published in Active Trader, Buy-Sell-Hold, SFO (Stock, Futures & Options), Investor's Observer, and Smart Money magazines and has also been quoted in Barron's.
Bill received a Master's Degree in Economics in 1996 and an M.B.A. in 1999 both from the University of Central Florida (UCF).



Selecting a Ghostwriter
There is no shortage of ghostwriters so the selection process can seem, well, haunting. But you must be diligent in finding the right ghost who can write with the proper tone, clarity, and understanding of financial concepts and markets.
Three golden rules exist for selecting a financial ghostwriter. Unfortunately, nobody knows what they are. But below are three strong suggestions you can use to help with your decision.


Number One: Check Financial Experience
Most ghostwriters are journalists. They major in things like English and composition, which means their forte is constructing grammatically correct sentences without misspellings. Unless you're writing a financial poem or dictionary, their services will be limited. You need someone who can explain the concepts – not just write words that pass spell-check.
Oddly enough, most "financial" ghostwriters have no financial experience. Sure, some will tell you they have publications in the field of personal finance, but that's hardly financial at all. In most cases, it's not even that personal.

If their resume includes titles like "How to Balance a Checkbook Using an Abacus" or "The Top-Ten Best Pin Codes for Your ATM Card" then it's a safe bet they will be lost when trying to explain things like diversification. There's a good chance they will even misspell it.
Your publication is about finance. Be sure to find someone who understands the concepts and can convey them clearly to your readers.


Number Two: Check Years of Industry Experience

Most ghostwriters have never worked in the financial industry. They are, after all, mostly journalists. You may find a select few who have experience writing about abacuses or ATM cards but today's rapidly changing world of finance requires an intricate knowledge of techniques, practices, and theories in order to clarify current concepts, create new ones, or challenge the old. It doesn't enhance your credibility to publish a book and see that diversification is misspelled on Page 2.


Number Three: Will the Ghostwriter Create Charts?
Most ghostwriters have little experience using computerized spreadsheets, such as Excel, to create graphics and charts. Journalists like cameras. But snapping a picturesque sunset over the New York Stock Exchange is not a substitute for including a chart so your readers can visualize how diversification reduces risk, or visualize why compounding is one of the strongest forces in the universe.
Most ghostwriters will not create graphics for your publication. If you need graphics, you are referred to a third party who creates the images and sends them to the ghostwriter. And you thought ectoplasm was messy.
Because a picture is worth a thousand words, be sure the ghostwriter is willing and able to create charts; they are the most efficient way to demonstrate financial concepts – even if it is just an abacus.